The Delhi Mall by Raheja Developers - Pre-Leased Shops in Delhi | Ultra Luxurious Commercial Project in Prime Location of Delhi | Call - 78270-05000
2020-03-28T07:44:50
2020-05-26T06:37:11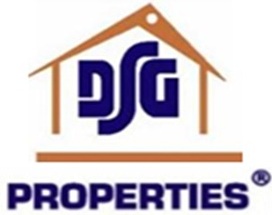 DSG PROPERTIES-GURGAON & FARIDABAD DLR
nowfloats
The Delhi Mall by Raheja Developers - Pre-Leased Shops in Delhi | Ultra Luxurious Commercial Project in Prime Location of Delhi | Call - 78270-05000
RAHEJA DEVELOPERS presents THE DELHI MALL part of Leela Sky Villas Navin Minar, Central Delhi which will be one of the best ever biggest high end luxury commercial evolution based in Kirti Nagar, New Delhi.
The Delhi Mall, part of Leela Sky Villas, Navin Minar - the first ever mix use development in New Delhi with step in Shopping Mall, Food Court, Retail Showrooms, Movies for a lifestyle living (with multi-level lift parking). It provides you with a chain of numerous shops and is a rich area with world class amenities.
The property spreads across a wide area and is recognized by Delhi RERA. The overall development will be over 5 acres out of which approximately 2.39 acres footprint will be under the mall.
One of the largest Cinema Superplex in India. With G,1,2 floors reserved for Luxury Retail, 3rd floor for Food Court & Entertainment 4th floor for Cinemas, 5th floor for Pubs/Brewery & 6th-10th floor for Boutique Luxury Showrooms (with attached multi-level car parking) this will be the most happening place in Central and West Delhi. Delhi Mall is coming up with first gold souk of Delhi.
Amenities
Central Air Conditioned

Escalators & elevators

Build as per fire safety norms

Triple level underground basement and 5 level multilevel car park

Public address system

High end fittings and finishes

Showroom and anchor get the view of adjoining green belts
Project Highlight
The showroom on upper 5 level of delhi mall with a MLCP attached to them are reserved for uses like jewellery showrooms, automobile showroom etc.

The food and entertainment floor will have a mix of food court counters and fine dine restaurants, bars and lounges bringing a world class experience to the heart of Delhi for the first time

The cinema at delhi mall will be one of india's largest, giving unique experience like 4K theater, 4D movies, kids theater etc.

The retail experience spread over 3 floors will have anchor store, a central atrium, premium brands attuned to the needs of the surrounding residential area.
The food and entertainment floor will have a mix of food counters & fine dine, and the cinema at Delhi Mall will be one of the India's largest, giving unique experience like 4D theatres and kids theatres. And the retail spread over 3 floors.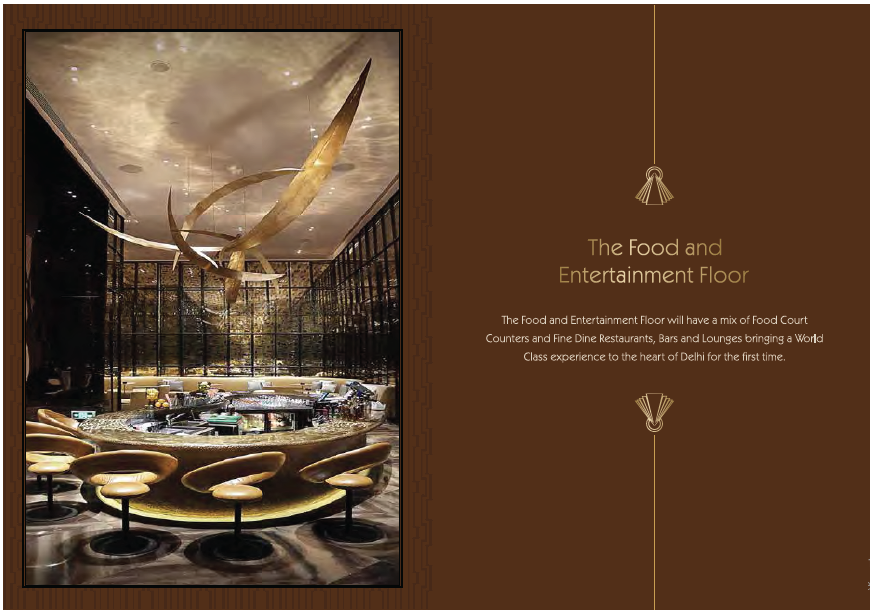 The showroom on the upper 5 level of delhi mall with a MLCP attached to them are reserved for uses like jewellery & automobile showroom etc, the floors give high visibility to the brands from high traffic flyover on the Patel road as well as entire central/west Delhi catchment.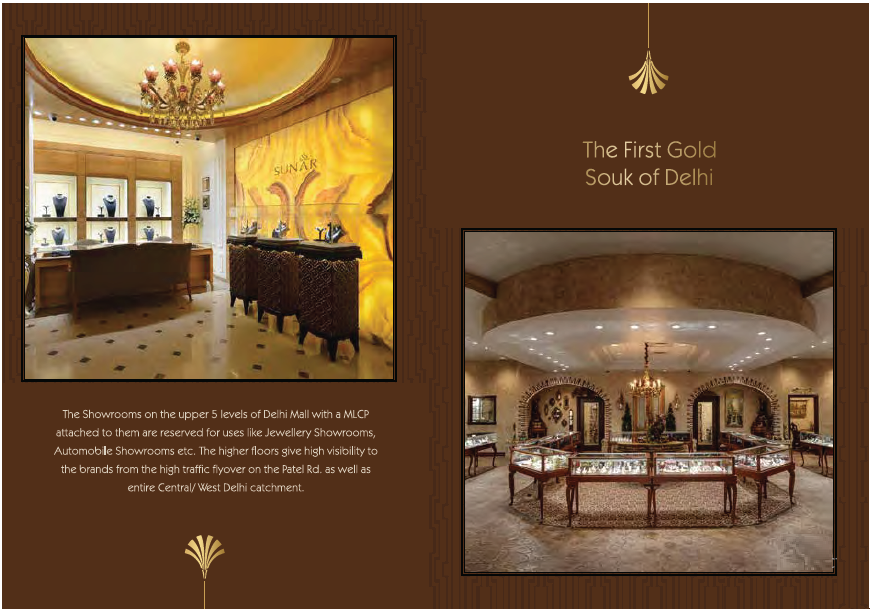 Location Advantages
The stars, clouds and Connaught Place are Near the Navin Minar & Delhi Mall.

All addresses say where you live. The Navin Minar says who you are and what you live for & high end top notch shopping brands, dining & socialising under one roof DELHI MALL.

The address that itself is a monumental landmark. Located on Patel Nagar Road, all popular hotspots of Central Delhi are just a few minutes away and the clouds, an elevator ride away.
The Delhi Mall, New Delhi will be a Premium Brands only Mall, obviously, with a few firsts to its name.
About Raheja Developers
Raheja Developers Limited was incorporated in the year 1990 by Mr. Navin M. Raheja, the first generation entrepreneur. Today, the company enjoys a strong presence in NCR and has made its position as one of the largest companies in the Real Estate Industry.
The company is one of the fastest growing entities in the realty sector with a difference that offers luxury for reasonable costs, excellent customer care levels with highest customer satisfaction index and the highest imaginable standards for the welfare of its staff, society as well as for the environment.